British writer Frederick Forsyth, best known for his thrillers, The Day of the Jackal, The Odessa File, and The Dogs of War, is now 81, and so has seen something of life: former RAF pilot, journalist and putative op for MI6. Like everyone over the age of 50, he understands that the response to the Dreaded Covid has been not only absurdly overwrought, but is in fact downright malignant.
Here he is today in Britain's Daily Express: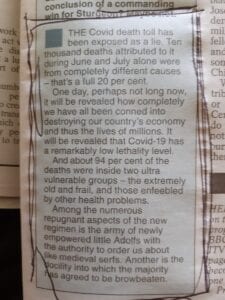 He's right, of course. It is a con -- the greatest, most destructive con of all time, designed to destroy the world's economies by falsely elevating "safety" above all else and persuading the feminized societies of the West to meekly submit to the diktats of petty bureaucrats and arbitrary tyrants.
And remember -- this is only the beginning what they've got planned for all of us. If we're going to fight back, the time is right now.